CNC Punching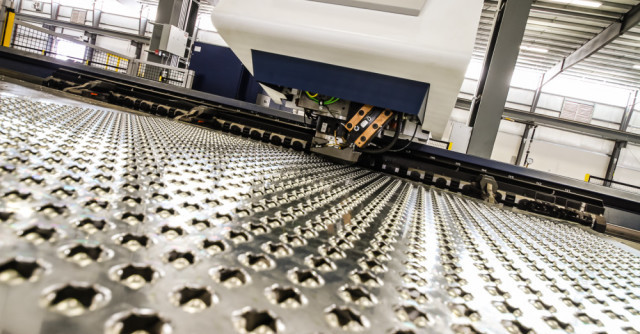 The TruPunch 5000 is the market leader in productivity, process reliability and flexibility. Individual automation solutions guarantee diverse applications and enable optimal throughput, especially in multi-shift operation.
---
TruPunch 5000 Benefits
Unbeatable productivity
Reliable production
Versatile forming
Optimal part quality
Individual automation
Productivity
Punching with a stroke rate of up to 1600 strokes per minute or marking with up to 3000 strokes per minute thanks to On-Demand Drive.
Maximum productivity when tapping and in the processing of complex contours due to increased rotational speed.
Drives without clearance allow maximum acceleration and positioning accuracy.
Optimized productivity and process reliability thanks to smart functions.
Intelligent automation solutions such as ToolMaster Linear for fast tool changes.
Quality
Scratch-free punching and forming processing when using the active die.
Very high part precision thanks to coherent machine design and stable C-frame.
No repositioning on account of retractable clamps.
Part surfaces free of imprints due to programmable stripper power (optional).
Flexibility
Maximum processing flexibility through the use of up to 90 magazine stations, held in the ToolMaster Linear.