Tube Laser Cutting New
(UPDATE) Our FabriGear series laser-cutting machine from Mazak is a three-dimensional laser-processing tool designed to process a full range of tubes and structures.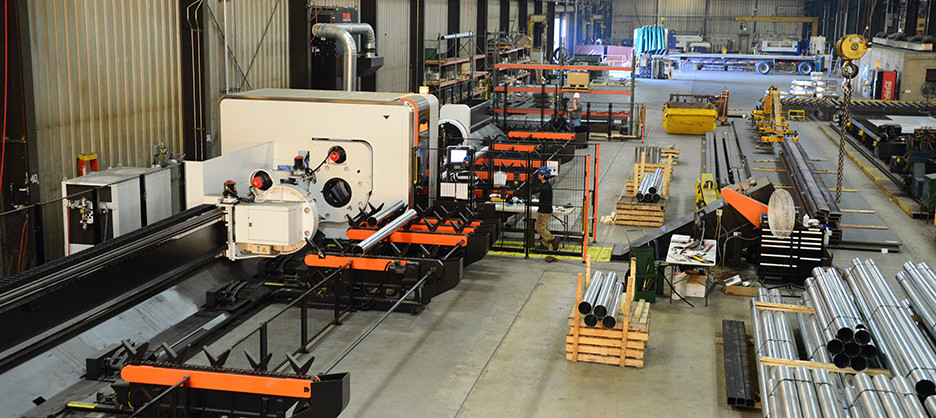 The machine makes loading raw material into the loading station simple and automatically delivers finished parts to the unloading station. Our tube laser's unique 3D cutting head allows for unsurpassed cutting accuracy at any angle for the best part fit and weld preparation.
Wall Thickness
0.75″ maximum on straight cuts
0.50″ on bevel cuts
Maximum bevel is 50º
____________________________
Small Parts Catcher
Can handle parts up to 27.5″; larger sizes require manual unloading
Length
49′ – 0″ maximum ____________________________
Drawings
Solid model tubing data can be imported directly via 3D .iges, .sat and .step file formats. Manually inputting the tube info, the software is possible but requires more time
Conveyor Setup
Can queue up to 5 pieces of varying material sizes/lengths at a time
____________________________
Tolerances
Are similar to laser table tolerances: +/-0.031″ to +/-0.010″ depending on material

Round Pipe
Min Diam: 0.79″
Max Diam: 16″
____________________________

Square/Rect. Tube
Min Diam: 0.79″ x 0.79″
Max Diam: 12″ x 12″

Channel
Min Diam: 0.79″ x 0.79″
Max Diam: 10″ x 10″
____________________________

Angle
Min Diam: 0.79″ x 0.79″
Max Diam: 10″ x 10″

Wide Flange
Min Diam: 0.79″ x 0.79″
Max Diam: 6.5″ x 6.5″
____________________________ Other Shapes
Min Diam: 0.79″ x 0.79″
Max Diam: 10″ x 10″